Have you been struggling to get in-game content for your favorite games, such as World of Warships, Gwent: The Witcher Card Game, or Heroes and Generals?
Have you gone through loads of tedious missions or opened countless boxes keeping your fingers crossed to come across powerful in-game items you want?
If so, it's about time to get to know the brand-new MillionPugs cashback platform that allows you to earn in-game content for top-notch games in an effortless way without incurring any additional costs or completing missions.
What is MillionPugs?
MillionPugs is a rewards platform for gamers. It enables you to collect points called pugs™ and exchange them for valuable in-game items.
How to collect pugs™?
Pugs™ are simply collected by shopping online in affiliated stores.
Despite the freshness of the platform, it already offers a wide selection of brands, allowing you to collect rewards points along with your regular purchases and orders.
Currently, MillionPugs collaborates with almost 1000 popular brands that have prepared special deals for MillionPugs users.
Among them, you can find the most popular stores you probably frequent on a regular basis, such as Walmart, Walgreens, Grubhub, Newbalance, or Groupon.
Each of the brands has prepared a different deal for the MillionPugs users, but each of them equips you with pugs™ and credits.
What are credits?
Credits are bonus points you gain by making eligible transactions using the MillionPugs browser extension or the shopping link provided on the website.
The number of pugs™ you can get depends on the value of the transaction, whereas the number of credits is based on the frequency of transactions you make. For each of them, you can earn 100 credits, which can also be exchanged for in-game content on the MillionPugs platform.
How to use MillionPugs?
The MillionPugs website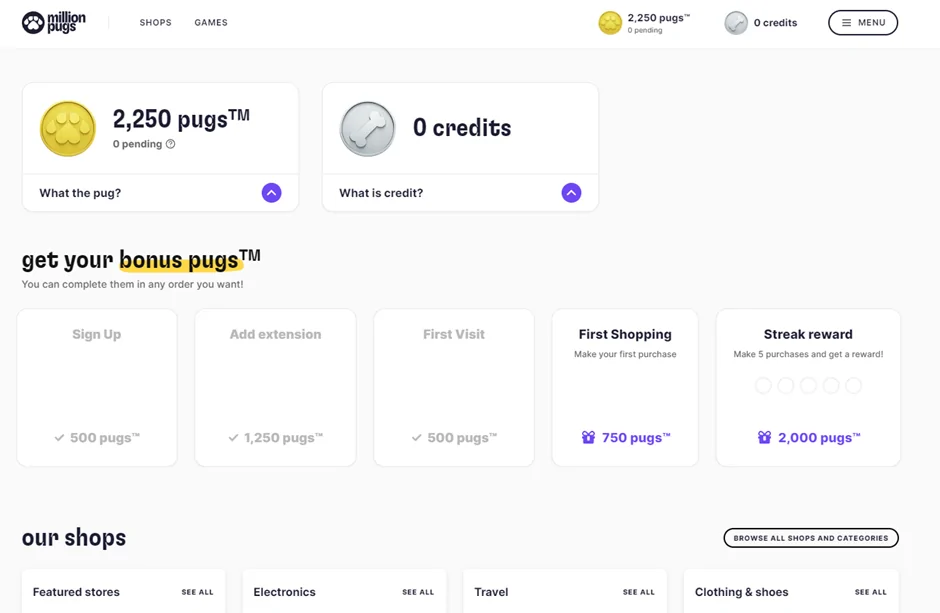 To use the service, you can use the MillionPugs website and take advantage of the shopping links they provide.
On their platform, you can check out all the available deals and stores that cooperate with MillionPugs. The stores are split into categories, which makes browsing easy and quick.
Moreover, the platform also provides you with all the information about the following:
● games that cooperate with MillionPugs,
● in-game items you can redeem for points or credits,
● special deals,
● games that will soon join the MillionPugs website,
● number of collected pugs™ and credits.
Once you collect enough pugs™ or credits, you can just click on the in-game item you need, get a code and activate it in the game.
The MillionPugs browser extension
Nevertheless, it is worth mentioning that in order to fully take advantage of the MillionPugs service, you should install their browser extension.
The MillionPugs plugin is free-of-charge and available for Google Chrome and soon for Microsoft Edge as well.
Once you install it, you will prevent yourself from missing out on any available deals. The plugin displays a pop-up with pugs that you can activate once you visit any of the affiliated stores.
Consequently, you don't need to devote your free time to look into offers on the website, as the plugin will display them for you every time you visit one of the listed stores with the activate option.
What game content can you get using MillionPugs?
Currently, MillionPugs offers in-game items for top-notch games, such as:
● World of Warships,
● Heroes and Generals,
● Gwent: The Witcher Card Game,
● Cards.
Each of the games comes with different types of in-game content you can earn, but this includes, for example:
● in-game currencies like Doubloons for World of Warships, Meteorite Powder for Gwent, or Gold for Heroes and Generals
● Skins like Ensign's Endowment for World of Warships or skins for Machine Carbine for Heroes and Generals,
● Starter and Super Packs packed with a few powerful items,
● Subscriptions,
● special items like Veteran Membership for Heroes and Generals or Ultimate Premium Kegs for Gwent,
and many more.
It is also worth mentioning that MillionPugs doesn't rest on laurels and is actively expanding its offer, adding other widely popular games to the list.
Soon you can also expect to see on the game list EVE Online, League of Legends, Valorant, or Legends of Runeterra.
What do MillionPugs get?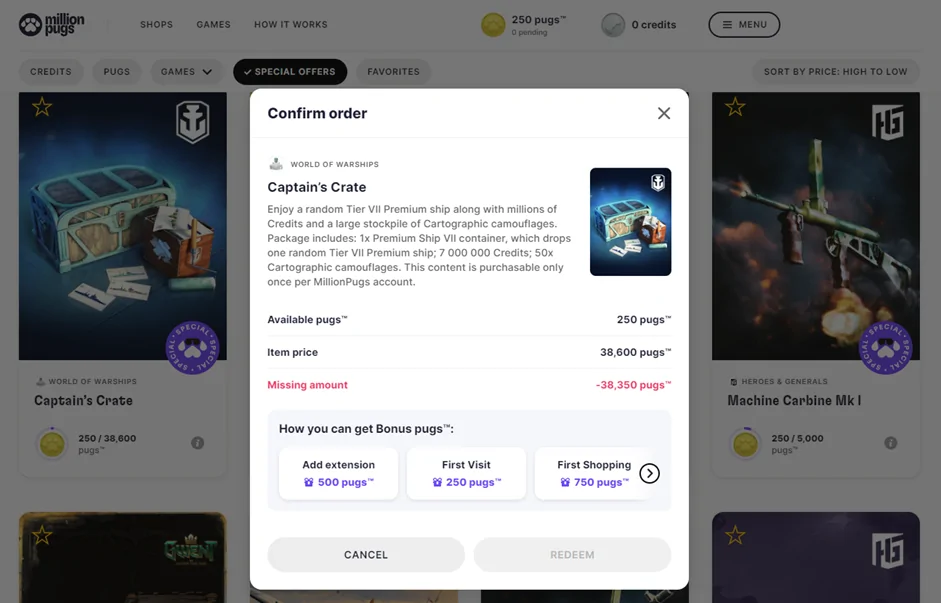 It all sounds great from the user's perspective, as you can easily acquire powerful in-game content almost for free in an effortless way.
Nevertheless, what's in there for MillionPugs owners? How do they make money if everything is free-of-charge?
MillionPugs earns money by getting commissions every time users activate deals in one of the listed stores. They take a part of these commissions for themselves, and the rest goes to users in the form of pugs™.
Therefore, the startup makes money when you earn pugs™ and credits. Win-win situation.
Is it safe to use MillionPugs?
MillionPugs is a legal startup offering its services to all players in the USA.
To take advantage of the platform, you neither need to incur any costs nor undertake a contractual obligation.
Both the MillionPugs platform and the browser extension are free of charge and flexible in terms of starting and termination of the service's usage. You decide when you want to join and where to leave without any strings attached.
What is more, MillionPugs collects minimal personal information, limiting themselves only to data, allowing them to create an account, granting pugs™, and improving their services. You can read the full Privacy Policy at MillionPugs.com/Privacy-policy.
Summing up, MillionPugs is a beneficial and easy way to get valuable in-game content for top-notch games such as World of Warships, Gwent, Kards, or Heroes and Generals.
The list of games and items you can get is still expanding. The platform is still at an early stage of growth and keeps upgrading to provide users with a seamless service.
Therefore, if you have been struggling to get powerful game content for your favorite games, the MillionPugs plugin is one of the most effortless and speedy ways of acquiring it without emptying your wallet or completing repetitive missions.